Analisa Algoritma Association Rule pada Calon Mahasiswa Program Magister di masa Pandemi dengan Metode FP-Growth
M.hafizh

Universitas Putra Indonesia YPTK Padang

Gushelmi

Universitas Putra Indonesia YPTK Padang

Triana Novita

Universitas Putra Indonesia YPTK Padang

Selvi Zola Fenia

Universitas Putra Indonesia YPTK Padang

Emil Naf'an

Universitas Putra Indonesia YPTK Padang
Keywords:
Data mining Algoritma Association Rule FP-Growth frequent itemset
Abstract
Pada masa sulit ini (pandemi) berdampak juga pada dunia pendidikan tekusus pada mereka yang ingin melanjutkan pendidikan tapi terhalang dan hilang semangat di karenakan kondisi pandemi.sehingga hampir setiap kampus merasakan sedikitnya mahasiswa baru yang mendaftar.karena hal tersebut sangat di butuhkan analisa yang mampu memberikan acuan dalam menyusun strategi dalam meningkatkan kembali jumlah orang yang mendaftar.slaah satu cara yang dapat dilaukan adalal dengan teknik dataminig,  Adapun teknik yang digunakan dalam hal ini adalah Algoritma Association Rule metode FP-Growth. FP-Growth adalah salah satu alternatif algoritma yang dapat digunakan untuk menentukan himpunan data yang paling sering muncul (frequent itemset) dalam sekumpulan data. Algoritma FP-Growth merupakan pengembangan dari algoritma Apriori. Sedangkan di dalam algoritma FP-Growth tidak dilakukan generate candidate karena FP-Growth menggunakan konsep pembangunan tree dalam pencarian frequent itemset. Penelitian dilakukan dengan menganalisa fariabel data calon mahasiswa yang nantinya akan menghasilakn rule yang berguna sebagai acuan dalam mengambil keputusan.
References
A. Maulana and A. A. Fajrin, "PENERAPAN DATA MINING UNTUK ANALISIS POLA PEMBELIAN KONSUMEN DENGAN ALGORITMA FP-GROWTH PADA DATA TRANSAKSI PENJUALAN SPARE PART MOTOR," KLIK - Kumpul. J. ILMU Komput., 2018, doi: 10.20527/klik.v5i1.100.

Arifin, T. " Metode Data Mining Untuk Klasifikasi Data Sel Nukleus Dan Sel Radang Berdasarkan Analisa Tekstur". Informatika, II (2), 425-433. 2018 https://doi.org/10.31311/ji.v2i2.125

M. Siahaan, "Dampak Pandemi Covid-19 Terhadap Dunia Pendidikan," J. Kaji. Ilm., 2020, doi: 10.31599/jki.v1i1.265

Strijbos, J. W., Martens, R. L., Prins, F. J., & Jochems, W. M. G. (2014). Content analysis: What are they talking about? Computers and Education, 46(1), 29–48

Vania nuraini Latifah, "IMPLEMENTASI ALGORITME MODIFIED-APRIORI UNTUK MENENTUKAN POLA PENJUALAN SEBAGAI STRATEGI PENEMPATAN BARANG DAN PROMO," J. Pengemb. Teknol. Inf. dan Ilmu Komput. Univ. Brawijaya, 2018.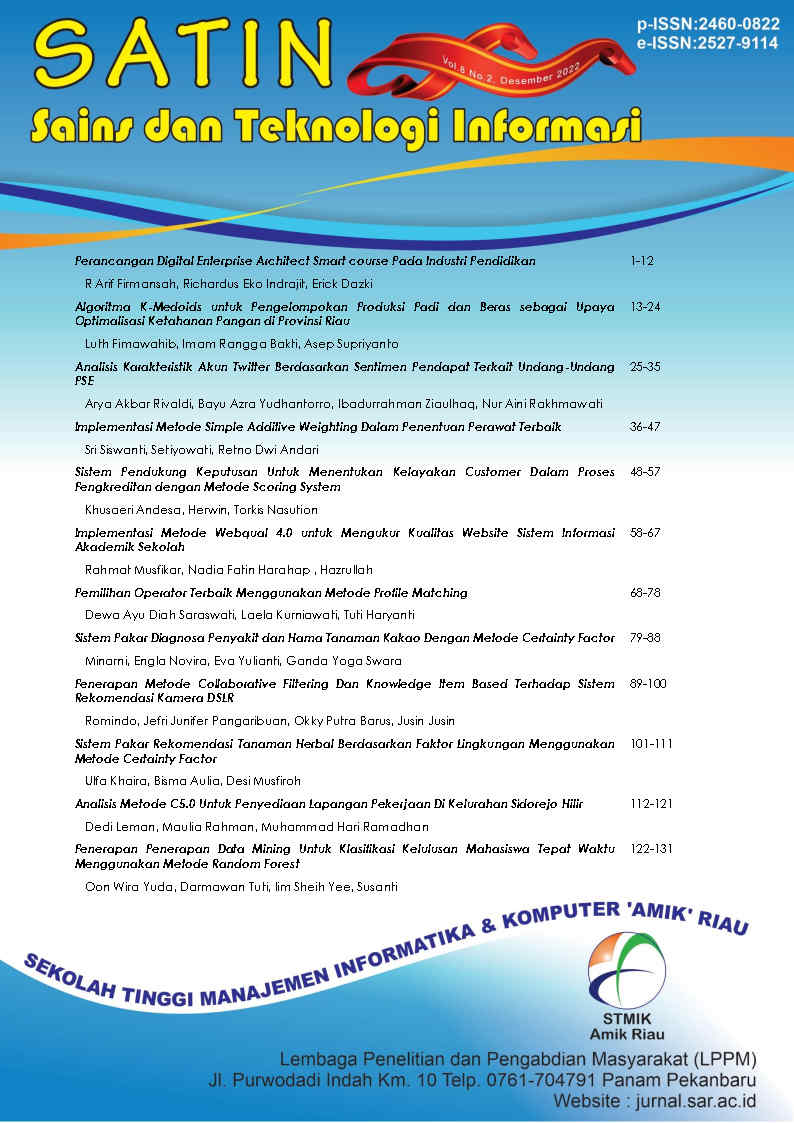 How to Cite
M.hafizh, Gushelmi, Triana Novita, Selvi Zola Fenia, & Emil Naf'an. (2022). Analisa Algoritma Association Rule pada Calon Mahasiswa Program Magister di masa Pandemi dengan Metode FP-Growth. SATIN - Sains Dan Teknologi Informasi, 8(2), 162-171. https://doi.org/10.33372/stn.v8i2.908
Copyright (c) 2022 Gushelmi (Author)
This work is licensed under a Creative Commons Attribution 4.0 International License.